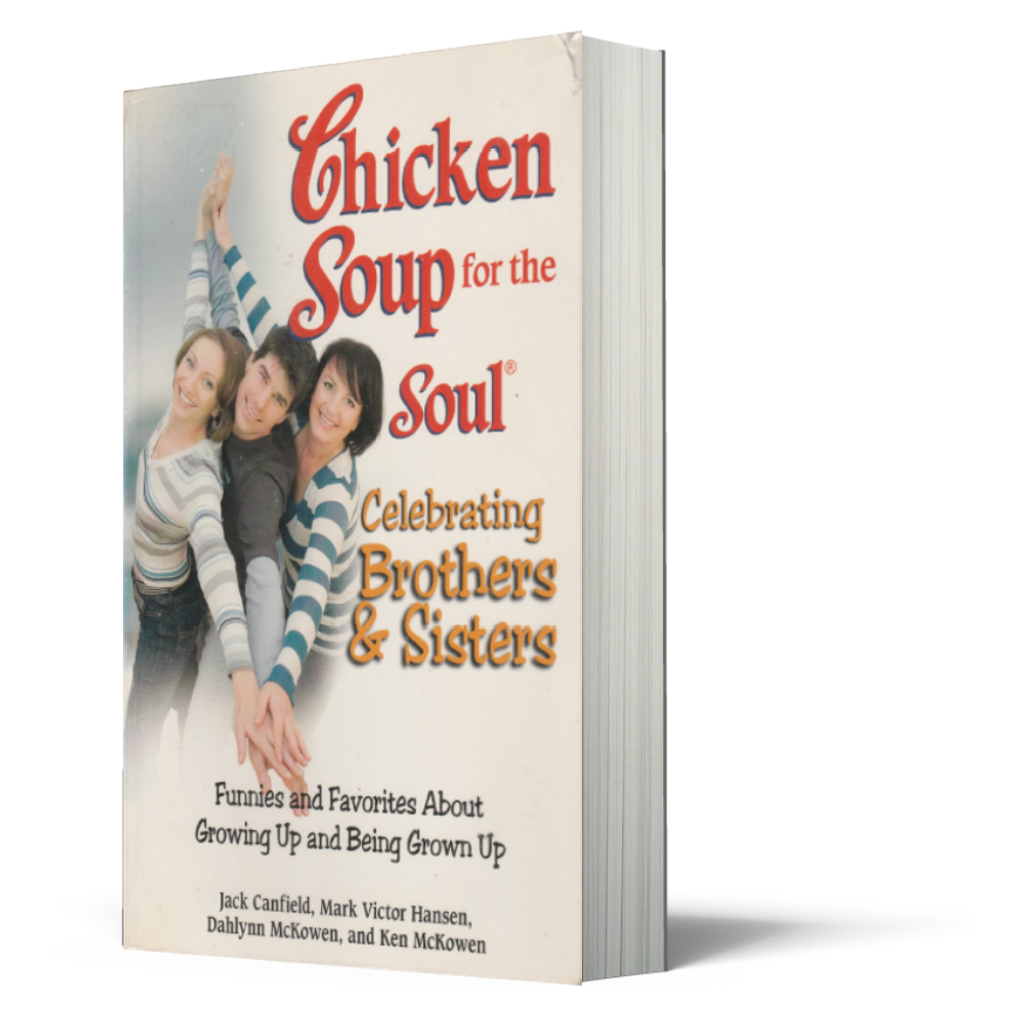 Chicken Soup for the Soul: Celebrating Brothers and Sisters
SYNOPSIS
You don't choose your family. They are God's gift to you, as you are to them. -Desmond Tutu
There is no other family relationship quite like it! Rivalry, competition, camaraderie, love, and support--all are found in the bond between brothers and sisters. Reflecting on the nuances of this special connection, Chicken Soup for the Soul Celebrating Brothers and Sisters is filled with heartfelt stories that honor this unique relationship.
Chuckle as you recollect childhood squabbles and occasional teamwork between you and your sibling. Relive the struggles and frustrations you went through while growing up with someone you found difficult to understand. Reflect on the poignant details of the sometimes painful path toward reconciliation in adulthood. This remarkable collection illustrates the ups and downs of life with that special family member, your brother or your sister.
Chicken Soup for the Soul Celebrating Brothers and Sisters honors the strength of this family bond. These heartwarming tales of brothers and sisters illustrate the constant redefinition of their relationships and friendships throughout the years. Filled with humorous, thoughtful, and heartfelt memories and experiences, this extraordinary book celebrates the power and strength of having a friend in the family who will be there for you throughout your life.
GOODREADS REVIEWS
AUTHOR
Sandra Toney
Glady Martin
Wendy Greenley
Glen A. Carlsen
Renee Hixson
Terri Duncan
Kathy Shiels Tully
Michelle L. McCormick
Linda Cook
Karna Converse
Kellie Randle
JoAnne Bennett
Miriam Hill
Cynthia Borris
Beverly Watson
Kari Mills
Melanie Stiles
Joyce Stark
Jeanne Pallos
Tonny Polk
Lynn Marshall
Leticia Gomez
Linda Apple
Joe Beaulieu
Jane Wiatrek
Shawn Shiflet
Vivian M. Johnson
Lucille Engro DiPaolo
Lahre Shiflet
R.J. Thesman
Nolyn Wilson
Patsy Zettler
Tina O'Reilly
Cindy Ovard
Julie Henry
Lisa Davenport Freeman
Emily Parke Chase
Caroleah Johnson
Melanie Marks
Margaret Lang
Lyndsey D'Arcangelo
Megan Mantin
Barbara Elliott Carpenter
Salvatore Buttaci
Donna Dawkin
Paulie Tietz
Cristy Trandahl
Elena Aitken
Renie Burghardt
Kimberly Misra
Laurie Heron
Nancy Kay Grace
Kimberly Sowell
Terri Elders
Norma Favor
Arthur Wiknik, Jr.
Diana M. Amadeo
Jean Stewart
Lucile C. Cason
Susan Karas
Fay Ulanoff
Joe Lair
Terri Duncan
Patsy Zettler
Lauren Manekin
Sheila Vincent-Bright
Andy & Peggy Frezon
Arnita C. Wright
Jack Canfield
Mark Victor Hansen
Dahlynn & Ken McKowen
BOOK ID
CHSO0022
TOTAL PAGE
246
---