Two Little Girls In Blue
SYNOPSIS
Returning home from a black-tie dinner in New York, Margaret and Steve Frawley find the police in their house and their twin daughters gone. The kidnapper, who calls himself the 'Pied Piper', soon makes his terms known: on delivery of a ransom, a phone call will reveal the girls' whereabouts.
The ransom is delivered but, when the calls comes, only Kelly is in the car parked behind a deserted restaurant. The driver is dead from a gunshot wound and has left a suicide note, confessing to killing Kathy and dumping her body in the ocean.
When strange occurrences begin to suggest that Kathy may still be alive, and communicating with Kelly, Margaret finds herself alone in wanting to continue the search for her daughter. But as Kelly warnings become increasingly specific and alarming, the FBI agents set out to search for Kathy. As they close in on the Pied Piper and his accomplices, Kathy's life hangs by a thread...
GOODREADS REVIEWS
AUTHOR
Mary Higgins Clark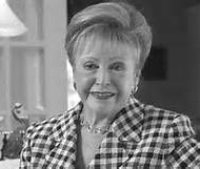 Official Website
BOOK ID
CMH00008
TOTAL PAGE
322
---