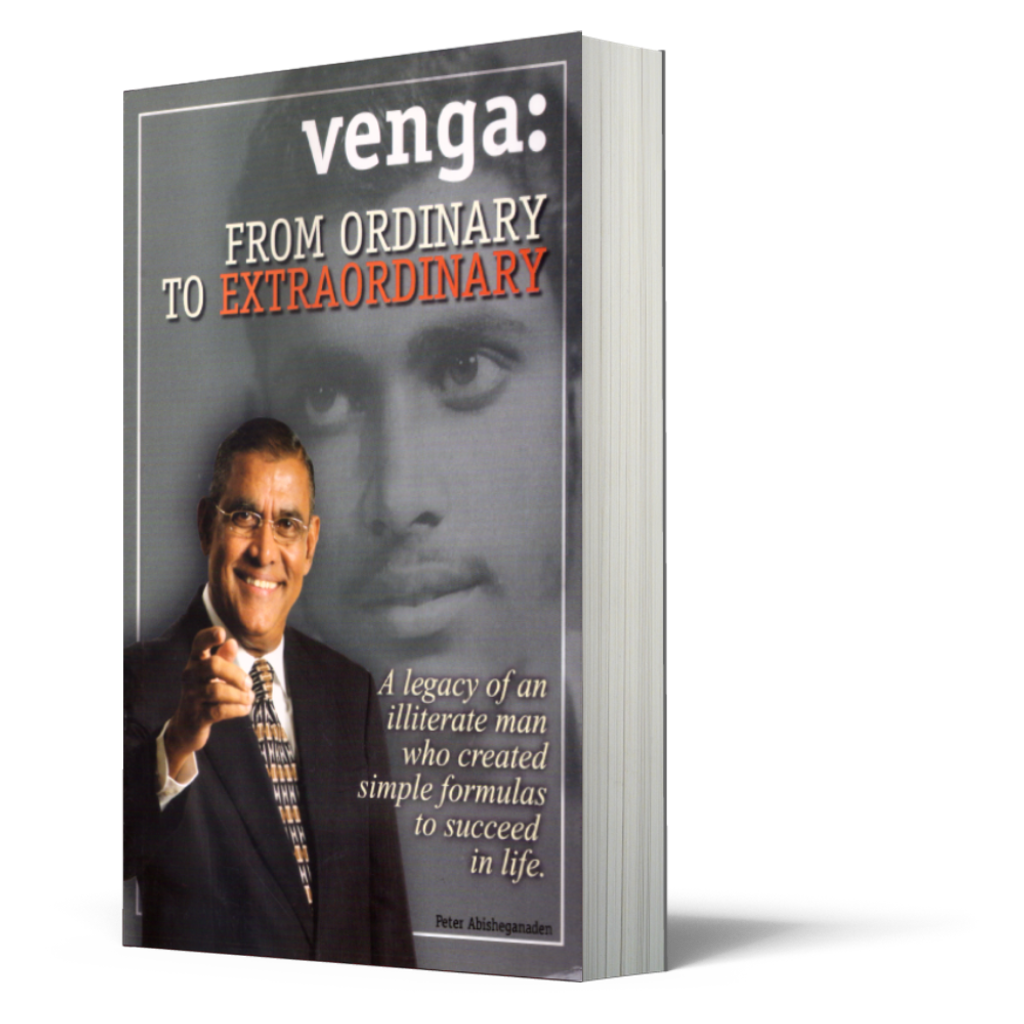 Venga: From Ordinary to Extraordinary
SYNOPSIS
Venga's life story is the quintessential rags to riches story. Born in Malaysia but separated from his family during World War ii in Singapore at age four, he was brought up by a Chinese rickshaw puller. He was marketing Chinese doodles as an illiterate tick-tock boy, before realizing the need to read and write.
Reunited later with his family, Venga became a car then insurance salesman, achieving great success in his sales career. He moved back to Malaysia on its independence or Merdeka day, 1957.
He was 'discovered' and made the world of pharmaceutical sales his own. In a glittering 26 year career with Swedish multi-national Astra Pharmaceuticals, Venga went on to become the Managing Director of Astra and lead it to astounding success.
During his evolution from salesman to sales manager, then director and managing director Venga learned a great many lessons along the way, Some of this came in the form of formal learning, through books, classes, seminars and such. Other lessons were learned the hard way - through the school of hard knocks. At every step Venga has sought to understand the lessons he has learnt and to progress as a person.
Life has dealt him some hard lessons. Venga has had to manage a young family whose mother was not well, and to hold the family together through years of her illness and later, her tragic passing. Through it all, Venga was still forging ahead with a hugely successful career in business.
After achieving commercial success in a pioneering career at Astra, Venga retired from the multinational at the age of 46. Venga has gone on to carve himself a post-retirement career in time-management and management consultancy with his own company Ventrax Management.
This is the story of an extraordinary man - a man who has become iliteracy, poverty and adversity in his life.
Yet it is more than a life story. It is also the story of how he has achieved success - his methods, his daily practices and reviews that turned him from ordinary to extraordinary. It's Venga's story of the lessons he has learned in the University of Life. And his legacy to anyone who yearns for success.
You will learn how Venga plans for success, his life philosophy, the Write-Goal-Review process that has led him to daily success and achievement. And how you can achieve all you have ever dreamed of.
AUTHOR
Peter Abisheganaden
BOOK ID
ABI00001
TOTAL PAGE
141
---